Delivery Time
When you place an order, shipping and delivery dates will be based on the availability of your items and the shipping options you choose. Processing Time can affect when your order ships. Processing time is normally 2-3 business days but during holidays can be as much as 5 business days. Please note a due date if you need your order by a certain time in the shipping notes or call us so we can help you best. We normally handle customer orders in the order they are received. You can also speed this time up by paying for Priority Handing (15% of order total). Priority Handling will bump your order to the top and it will leave the warehouse faster especially during the holidays. Please note that Free Shipping may take 0-3 business days longer to process than other paid shipping methods because it is a non-rush service.

After it is shipped and leaves the warehouse the shipping method is the only thing that determines ship time. Here are some standard transit times: Standard Shipping: 7-10 business days depending the carrier selected. Carriers for this method is selected based only on least cost and not transit time. UPS Ground 5-7 business days (Please see UPS map below for more specific), USPS Priority 2-7 business days usually 2-3 but not guaranteed. We offer overnight and other rush ship methods so be sure to take advantage of these if you need to but ordering earlier will always save you on the shipping costs. If you provided a valid email with your order your tracking info will be emailed to that email. Check your spam filters as well because these emails are sometimes caught at spam. You can follow and be ready to receive your packages using this tracking number at the carriers website. You can add a note to your order with a deadline you need your order by and we will do our best to meet that date or contact you about it. Please always contact us if you have a fast deadline to meet.
Here is a map for UPS ground shipping from our location. You can determine by the colors which zone you are in and how many days your package will arrive in.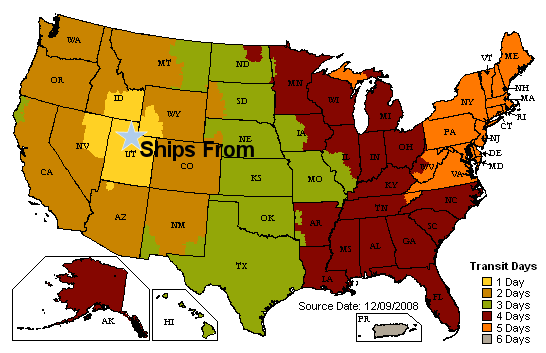 Calculating Cost
Shipping costs for orders from CuriousCountryCreations.com depend upon the method and option you choose.
If you choose to group items into as few shipments as possible, you'll be charged for one regular per-shipment fee, as well as a per-item fee for each item in that shipment.
If you choose to ship items as soon as they become available, we'll charge you full per-shipment fees for each shipment as well as a per-item fee for each item.
Please also note that the shipping rates for many items we sell are weight-based. The weight of any such item can be found on its detail page. To reflect the policies of the shipping companies we use, all weights will be rounded up to the next full pound.
Undeliverable Packages
Occasionally packages are returned to us as undeliverable. When the carrier returns an undeliverable package to us, we issue a full refund (excluding shipping charges).
Packages that are undeliverable because of incorrect address given will not be refunded shipping. Confirmation emails are sent out to each customer with the shipping information contained in them. It is the customer's responsibility to confirm they have given us the correct address before the package ships.
If you suspect your order cannot be delivered as addressed and you have not received confirmation of its return, please contact us using the link near the bottom of this page.
As of 2014 UPS charges $20 to intercept a package. They also charge the costs to ship the package to the new address. These costs, when not our fault, will be charged to the customer's credit card.
If you have not contacted us we are unable to re-ship orders that are returned to us as undeliverable. If you would still like to purchase items that were undeliverable, you are welcome to place a new order on our Web site.
Why Was My Package Undeliverable?
Our carriers may deem a package undeliverable for one of the following reasons:
Incorrect Address. If the address is incorrect or outdated, the package is typically returned to us by the carrier or the unintended recipient. Please double-check your address carefully when placing a new order.
If an APO or FPO address is entered as an international address, the package will not reach its destination. If you have any troubles this way please contact us to make sure we have the correct address.
To remove an outdated or incorrect address from your account, click the "Manage your address book" link under the Account Settings heading in Your Account. Click either the Edit button or the Delete Address button beneath the address you want to change or remove.
Address Format. If a post office box address was entered in a format our system does not recognize, the package may be shipped through a carrier that cannot deliver to a post office box. To ensure that such packages are routed through the proper carriers, please enter the box number as "PO BOX" followed by the number.
Other Address Problems. If the order is being shipped to a prison, there may be delivery restrictions associated with the items or shippers. These restrictions are determined by the penitentiary and may vary.
We reserve the right to ship a package with any carrier even if another carrier is specified.
In rare cases, it is also possible that the address label became illegible during the shipping and handling process.
Failed Delivery Attempts. Most of our carriers make three attempts to deliver a package. Packages that contain more than $400 of merchandise will always require a signature; otherwise, it is generally up to the driver's discretion to determine whether a signature is required. If the driver feels it is best to obtain a signature and no one is present to accept the delivery after three attempts, the package will be returned to us.
Refused by Recipient. If a gift recipient is not expecting a gift, they may refuse the package if they believe it was sent to them in error. If you still want to send these items, you may want to let the recipient know that a surprise is on the way.
Purchase Orders
We reserve the right to charge to charge a fee for purchase orders because of the extra work involved with this service. Usually this is 15% or $10 per purchase order which ever is greater with a $50 minimum order amount before shipping. We also reserve the right to charge a fee for cancellation of a purchase order that has not shipped but is still being processed up to 50% of the order. All purchase orders need to be paid within 30 days of their being shipped. Failure to pay within this can result in a late fee of 15% for an additional 30 days. After 60 days the late fee will be 30% plus collection costs.