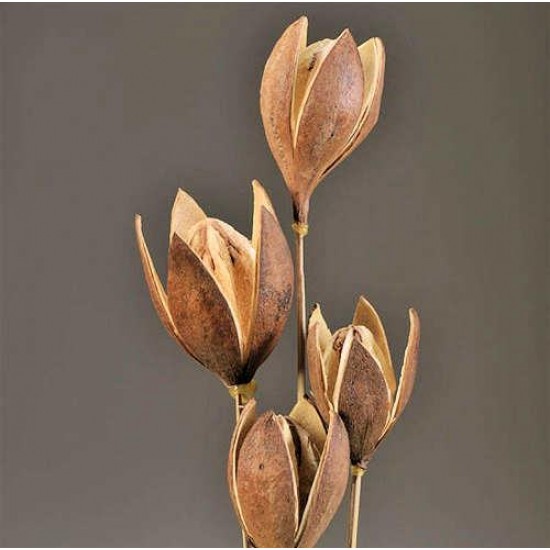 -56 % Out of Stock
Dried Wild Lily Pods
Dried Wild Lily Pod
Wild Lily Pods are beautiful pods that you can use in any arrangement.  They will last and look beautiful for years.  Try these wild lily pods and you won't be disappointed.
These beautiful, naturally dried wild lily pods are the outer casing of the seed pod of the wild lily.  Woody in feel and tulip looking in shape, the wild lily pod is one of the most wonderful gifts of nature for home and office decorating and crafting.  These beautifully brown and tan lily pods are stemmed for ease in placing in bouquets and other arrangements.
Wild Lily pods are perfect for adding to a wreath, garland or swag to add a depth of color as well as an interesting shape and texture.  The wild lily pods are exquisite enough to be used alone in a vase.  They are elegant looking, and simply natural. 
Size: 4 oz. dried wild lily pod bunches
Contains: 4 stems
Stem Length: 12-18 inches
Case:  12 dried wild lily pods bunches per case sold at Bulk Price
Stock:

Out of Stock

Product ID:

433