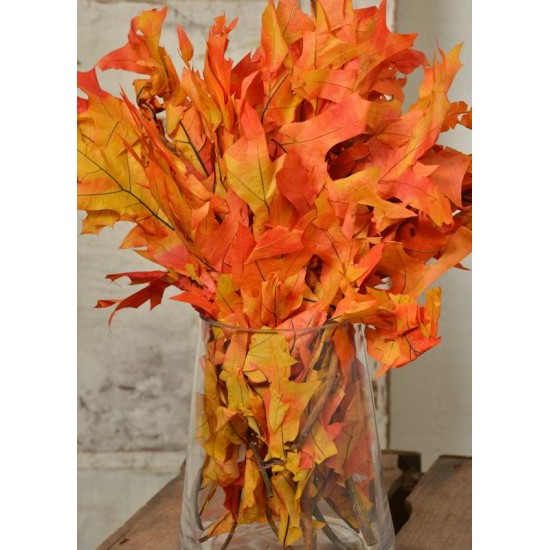 -24 %


Dried Autumn Oak Leaves (1 LB Preserved leaves)
Natural Dried and Preserved Autumn Gold Oak Leaves for Decorations
These natural, preserved oak leaf branches of yellow gold blending through orange into red are a feast for the eye. The fall colors in these oak leaves remind one of harvest time, bonfires, wheat fields, haystacks, good food and family. Each branch from the oak tree is filled with leaves that are bright and preserved to be pliable. Gather wheat, acorns, dried orange slices and indian corn to make a wreath with the Autumn Gold preserved oak leaves, and you will have captured the essence of fall in a circle of beauty. A garland made of beautiful fall colored oak leaves twisted together with wheat and tied with raffia makes a stunning entrance into any room. These preserved oak leaves in Autumn Gold will put a splash of fall color into your home or office. By themselves, these oak branches and leaves make a stunning display standing in a vase. The leaves are easily removed from the branches and can fill a bowl to overflowing with fall color. Add a splash of fall color to every room in your home by displaying a bowl of autumn gold oak leaves. Scatter preserved oak leaves over a table top or a mantle for a natural fall look. Gather these beautiful fall oak leaves to use as a photographic background for portraits or just a fall collage. Bring the beauty of fall into your life with these natural, preserved autumn gold oak leaves.
 
Autumn Gold:
Pictured: A branch of Oak Leaves
Size: Leaves are between 2 and 5 inches tall and wide
Type: Natural, preserved Oak Leaves
Length: Branches average 2 feet long
Single Leaves: Easily picked for single use. Pliable.
Color: Yellow gold blending to red
Case Option: Buy a case and save even more!

Oak Leaves Colors Available:
Summer Green
Mango (Orange)
Harvest Tones
Autumn Gold
Yellow
Red
White

Note: Any returned oak leaves will incur a 25% restocking fee.
Stock:

In Stock

Product ID:

335