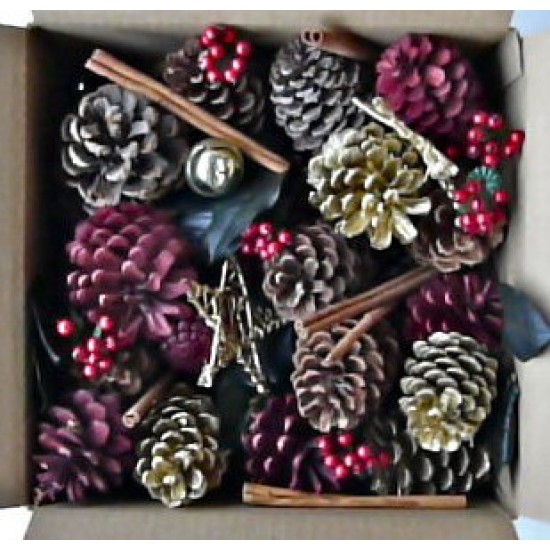 -32 % Out of Stock
Jingle Bells, Stars, Pine Cone Potpourri
Exclusive Jingle Bell, Stars, and Pine Cone PotPourri
Fill a basket with Jingle Bell potpourri and place at a focal point in a home or office.This combination of cinnamon sticks, natural, red and gold ponderosa pine cones, festive wicker stars, faux red pyracantha berries, salal leaves and jingle bells mixes the beauty of nature with the accouterments of the holidays. Add Jingle Bell Potpourri individually to a wreath, swag or garland for a fun and festive look.  Fill a clear vase with Jingle Bell Potpourri, tie a coordinating ribbon around it and there is an instant beautiful centerpiece.  A bowl or basket filled with Jingle Bell Potpourri adds a festive touch of nature to any decor.  Spread Jingle Bell Potpourri, along with evergreen boughs or holly along a mantle or bookcase.  Jingle Bell Potpourri is fragrance free, except for the natural scents of cinnamon and pine cone.  A few drops of cinnamon oil, or other aroma therapy oils added to the natural pine cones, can make the Jingle Bell Potpourri a long lasting room potpourri again.  Add a touch of dressed up nature throughout the your home or office today by purchasing Jingle Bell Potpourri.

Product: Jingle Bells Potpourri
Consisting of: 50-70 items from ingredients below
Ingredients may include: Cinnamon sticks, Natural ponderosa cones, Red ponderosa cones, Gold ponderosa cones, Wicker stars, Faux red pyracantha berries, Preserved basil green, salal leaves, Metal jingle bells
Box Size: Large 12x12x8 inch
Weight: about 5-7lbs
Scent: Just natural scent of each of these natural items.
Case Option: Buy a case of 6 boxes of Jingle Bell Potpourri and save Big!
Stock:

Out of Stock

Product ID:

315