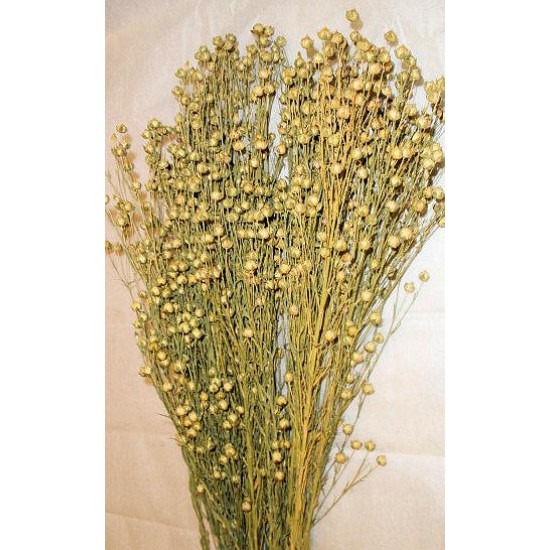 -28 % Out of Stock
Dried Flax Bunch - Linum Bunch
Dried Flax (Linum)
Beautiful on it's own but makes a great filler with other wonderful dried flowers. This is a must for your floral arrangement or centerpieces. It has wonderful little seed pods that are great in between other flowers. Flax is also known as linum, common flax or linseed.  Flax is native from the Eastern Mediterranean to India. Flax was extensively grown in ancient Egypt.  Flax was first cultivated for use in making fibers for linen fabric. Now flax is used to make fabric, dye, paper, medicines, fishing nets, hair gels and soap. The oil from the flax seed makes linseed oil which provides healthy nutrition. Flax is a very useful plant for many reasons, but it is still cultivated throughout the world as a decorative flower.  The annual plant grows on slender stems. The five pedaled flowers are a beautiful pale blue or a bright read.  The 'fruit' of flax is a round dry capsule which contains glossy brown  to golden colored seeds. These naturally dried flax pods also are wonderful in wheat arrangements.  Add dried flax to bouquets of dried blond wheat, black beard wheat, or green wheat for a wonderful look. Don't forget the filler or you will spend too much trying to make an arrangement look good.  This is dried and ready to go.  You will love it.
Product: Dried Flax Linum
Size: Large 4 oz bundle
Length: 22-24 inches long
Diameter: Average 5-7 inches
Color: Light green with yellow berries
Case Option: Buy a full case of 25 flax bundles and save even more!

Also known as: Linnium, flax, flax linum
 
Stock:

Out of Stock

Product ID:

418