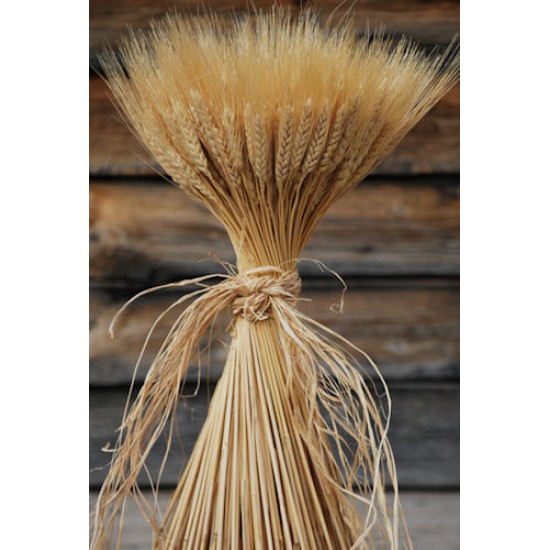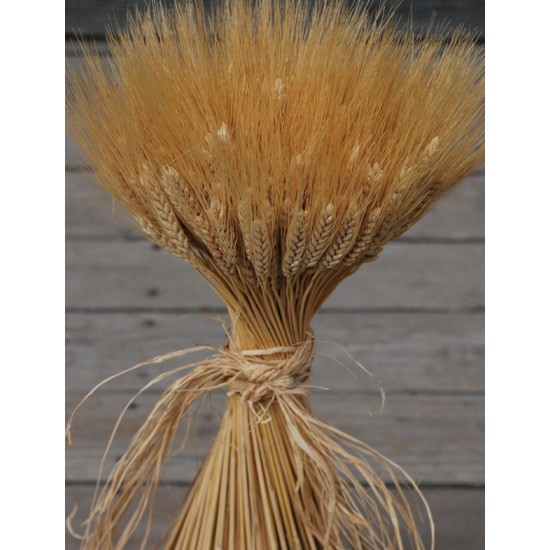 Hot -22 %


Large Dried Wheat Bunches
Large Dried Wheat Bunches
Wheat Bundles make great wedding reception, bridal, charity event, or party centerpieces. They are a unique inexpensive centerpiece (center piece) to decorate your event and they show nature's beauty when decorating your table. Autumn is a time to celebrate the fullness of nature's bounty. Traditionally, during the autumn months, individuals decorate their homes with items that reflect the harvest: wheat sheaves, pumpkins, gourds, corn stalks, dried Indian corn, acorns, grains and hay bales, for example. Colors that remind one of fall are the vibrant colors of leaves when the first frosts change them from summer's green to brilliant reds, oranges, yellows and browns, making the fall season the sunset of summer. A perfect addition to your home decor this autumn are bundles of fall wheat. These natural wheat bundles have been specially created to reflect the colors of autumn. The sheaves of fall wheat bundles contain 16 ounces of wheat stalks cut to a total height of about twenty inches. Wheat Centerpiece Instructions: To make a beautiful centerpiece for your harvest table simply tie the bundle tightly with twine, raffia, or ribbon just below the heads of the grain. Gently twist the bundle at the tie to fan the base of the stalks so the sheaf of wheat will stand. This also makes the wheat heads flare out in a nice arrangement. Place the dried wheat on your table and surround it with other accents such as dried orange slices, autumn leaves, acorns and small gourds. Voila! A festive reminder of all the bounties of harvest to decorate your home and impress your guests. For instructions on how to create a beautiful dried fall wheat centerpiece look at this craft website link.
Product: Large Dried Wheat Bunches
Size: 16 oz (1 LB) Wheat Bundle
Wheat Stems: 80-120 stems
Type: Blond Wheat
Color: Blond Wheat
Length: Long Stem Wheat - 18-24 inches
Diameter at base: 3-3.5 inches
Diameter at top: 8-10 inches
Case options: Buy a full case of large dried wheat bunches and save big!
Length Note: Wheat length does vary each year. Some minor trimming with scissors may be required for your individual project.

This size is meant to stand on its own without support from a vase. Great table decorations for Weddings, Charity Events, or special occasions.
For decoration only, not food grade.
All Natural Dried Wheat, order your bundles of wheat and start decorating your home for the season today.
Other Spellings: Center pieces, cheap centerpieces, discount centerpiece, weddings, bridal shower, church.
Stock:

In Stock

Product ID:

240