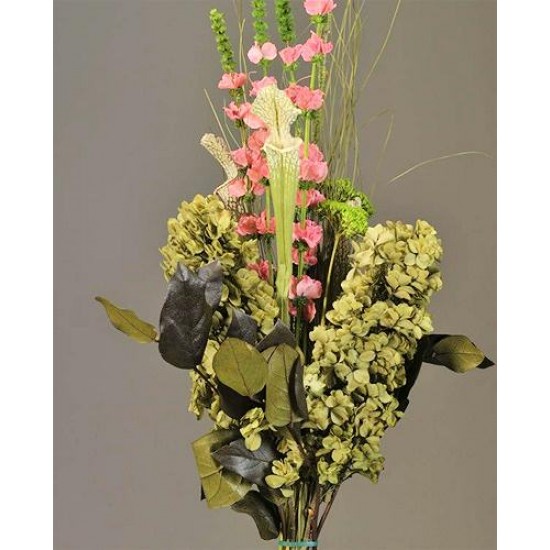 -33 % Out of Stock
Pink Larkspur Bouquet
Pink Larkspur Bouquet
This beautiful bouquet is all ready to be put in a vase or on display. Just take off the packaging and put it is your favorite vase and you will look like a master designer.  This flower and plant bouquet is only made with natural and real plants and flowers.  They will last for years with very little care and will be beautiful wherever you put them.
Our pink larkspur bouquet has just the right blend of color and texture.  Our hand crafters have taken an uncommon assortment of branches, flowers and leaves to make a truly unique and gorgeous bouquet.  The pink larkspur bouquet is a perfect arrangement for centerpieces, display tables, cabinets, countertops, desks and entryways.  This array of beautiful flowers and plants makes an elegant bouquet for wedding and anniversary parties as well as beautiful home and office décor.
The lovely naturally dried hydrangeas, pink larkspur, sarracenia and yarrow are encircled about by salal (lemon leaf).  To add height, texture and color, moss covered birch branches and meadow grass cap off the arrangement. 

Product: Pink Larkspur Bouquet
Main Ingredients*: Pink Larkspur, Dune Grass, Spring Green Yarrow, Sarracenia, Mosscoat Birch, Basil Snowflake Hydrangea
Buy 6 Per Case and save up to 20%

* We reserve the right to substitute ingredients in our bouquets for similar items if we need to because of supply issues.
 
Stock:

Out of Stock

Product ID:

452