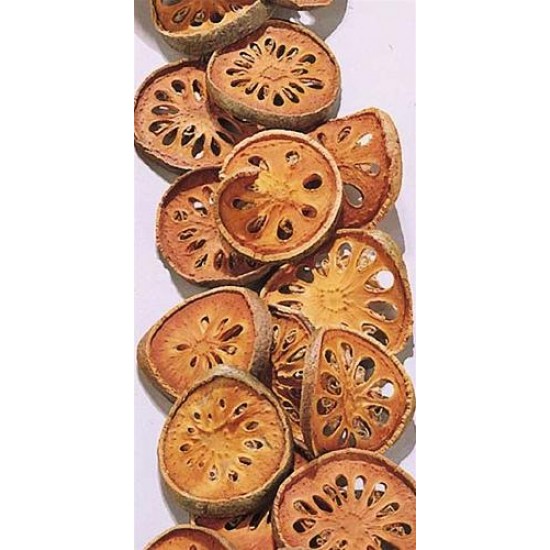 -20 %
Dried Quince Slices - Bael nuts
Decorative Quince Slices
Quince is a fruit related to both apples and pears.  The ripe fruit is a bright golden yellow, and is non-symmetrically pear shaped.
Quince has a charming seed pattern that is pleasing to the senses. We take fresh naturally grown quince, slice it horizontally so the seed pattern is evident in most of the slices, and dry it naturally. The flesh dries to a wonderfully warm peach color, with a rustic tan to brown rim. Quince has long been a favorite for brides. Quince was once used by brides to 'perfume the kiss' before entering the bridal chamber. Quince is a symbol of fertility, love and life. This makes Quince slices a wonderful addition to bridal bouquets, wreaths, swags and table ornamentations.

Product: Dried Quince Slices
Quantity: 15-20 Slices per bag
Grade A: Slices are hand picked to be best we have.
Grade B: Slices are likely not whole, or excessively curly, or have other gaps or breaks. They are ideal for projects where the slices need not be perfect or are going to be broken anyway.
Size: 2-4 inches in diameter
Case Size: Buy a full case of quince slices and save even more! (Bulk Discount)
Also called: Bael nuts, Bail nut,  Quince slice
Stock:

In Stock

Product ID:

469