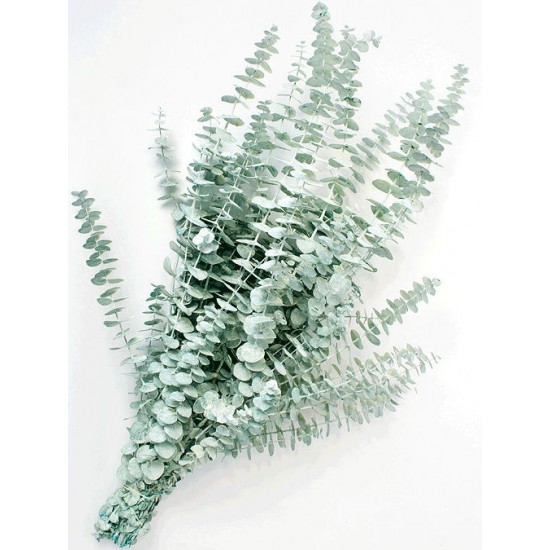 -20 % Out of Stock
Preserved Eucalyptus Branches and Leaves - Pastel White
Preserved Eucalyptus Branches and Leaves - Pastel White
Our pastel eucalyptus branches have been professionally dried then preserved, and are study enough to add to wreaths, bouquets or arrangements. This powder blue is pastel in color and would be a unique addition to whatever arrangement you're working on. This color would make a beautiful decoration for anyone throwing a baby shower, keeping a blue theme but using all natural products - you could even give the bunches as favors to your guests. Our eucalyptus branches are meant to last and depending on use, can continue to be part of your home decor for years to come! Pastel colors have become a huge trend in home decor and this beautiful powder blue is the perfect way to stay on trend! No matter where you use your dried pastel blue eucalyptus, we know you will love it.

Product: Eucalyptus - Pastel White
Size: 8 oz bunch - One Eucalyptus Pastel White Bunch Pictured
Branches: 6-7 stems
Season for Fragrance: Most Fragrant August-Sept, Oct - Feb is least fragrant, Mar - July is Middle Fragrant. Let us know what you would like and we will try to accommodate.
Color: Pastel White (Dyed and Painted)
Length: 25-30 inches
Case Option: Buy a full case of 12 bunches eucalyptus and save even more!
Fresh Cut Case Option: Get a full case fresh cut (20 bunches) from the farm direct to you. We keep our stock as fresh as we can but this is the most fragrant we can provide.
Also Known As:
White Eucalyptus, Light Green Eucalyptus, White Baby Eucalyptus, Pastel White Eucalyptus
Stock:

Out of Stock

Product ID:

1000