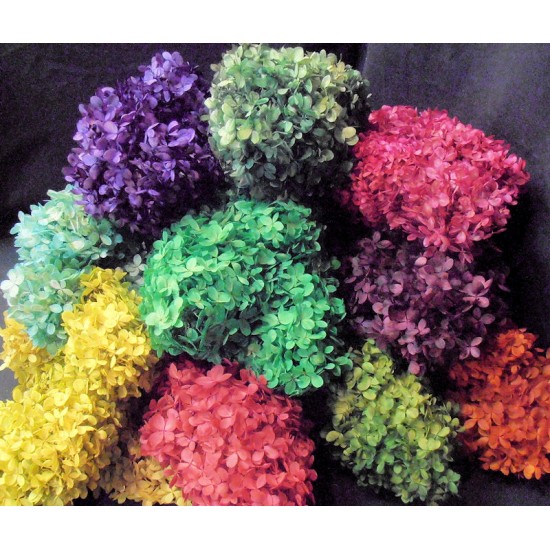 -29 % Out of Stock
Preserved Hydrangea Flower Bunches
Preserved Hydrangea Flower Bunches

Preserved hydrangeas flower bunches are more beautiful and easier to work with than natural ones. Each bunch is preserved with non-toxic glycerine which keeps them more flexible, softer, and easier to work with then natural hydrangeas because they dry out.  They also come in more colors and look stunning. If you love hydrangeas or love working with dried hydrangeas you will love these preserved hydrangeas.  They are beautiful and made to last for years in your arrangements.  Try some today. You won't be disappointed you did.

Product: Preserved Hydrangea Flower Bunches
Amount: 3-7 stems per bunch depending on stem size
Bunch size: 10" diameter bunch
Length: 12-18 inch stem
Colors*: (Clockwise from left) - yellow, light blue, purple, basil, mauve, raspberry, orange, chartreuse, pink, (center) spring green
Case Option: Buy a full case of 10 bunches of Preserved Hydrangea bunches and Save Even More!

*Color Note: Color shades can vary depending on the dye lot used. 
Stock:

Out of Stock

Product ID:

717