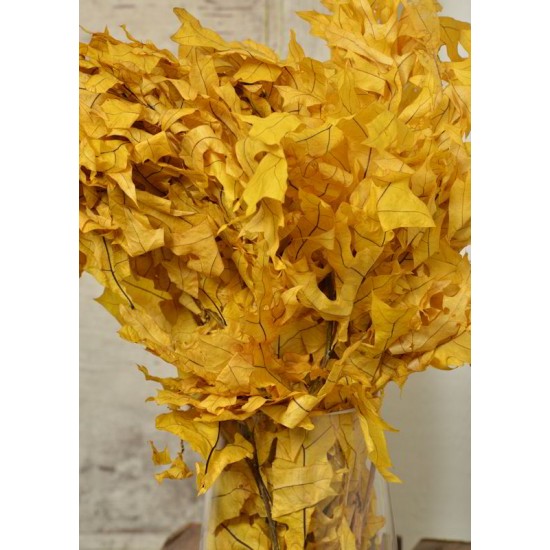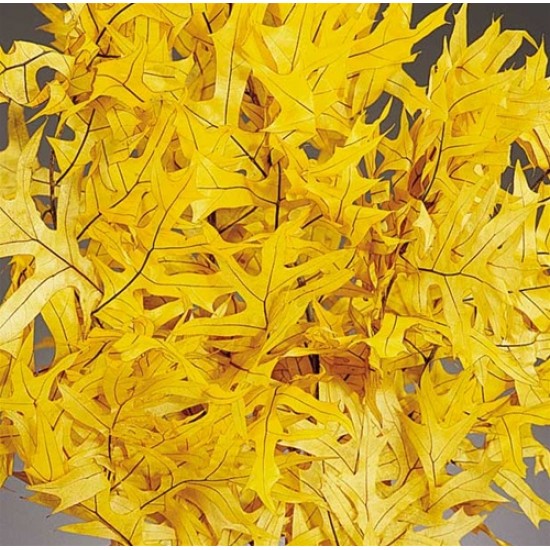 -22 %


Preserved Yellow Leaves (1 LB dried leaves)
Natural Preserved Yellow Oak Leaves for Decorations
Usually the first 'color' seen in the fall is yellow. These preserved, dyed, natural oak leaves capture the brilliance of the yellow foliage of early fall. The brilliance of the beautiful yellow oak leaves brightens any room, and shows Mother Natures beauty at its finest. The oak branches are filled with leaves that can be displayed as is, or the oak leaves can be picked from the branches and used to make wreathes, swags, cornucopias or be a bright spot in any autumn display. The brilliance and beauty of these preserved yellow oak leaves, however, do not confine them to use just in the fall. These gorgeous oak leaves make a sunny display wherever they are. The preserved oak leaves would make a gorgeous fall wreath, together with cattails, gourds and black beard wheat. The brightly colored preserved oak leaves also lend themselves well to the bright colors of spring and summer. The yellow oak leaves, together with statice, daisies and strawflowers would make a lovely spring display. Beautiful dried lavender mixed with the yellow oak leaves also makes for a wonderful and fragrant display to grace any decor. A bowl of yellow, preserved oak leaves would lend a brilliant color spot to any room. A vase filled with yellow oak leaves would brighten a table, hearth, bookcase or end table. These yellow oak leaves, mixed with other colors of oak leaves makes a rich and stunning display. Whether scattered on surfaces around the room, in a vase or a bowl, made into a wreath, garland or swag, it is hard to beat the beautiful of these magnificent yellow oak leaves.
Pictured: Yellow Oak leaf branch
Size: Between 3-5 inches long and 2-4 inches wide
Type: Preserved, natural oak leaves
Length: On branches averaging 2 feet long
Single Leaves: Can be easily picked from branch
Color: Yellow

Oak Leaves Colors Available:
Summer Green
Mango (Orange)
Harvest Tones
Autumn Gold
Yellow
Red
White

Note: Any returned oak leaves will incur a 25% restocking fee.
Stock:

In Stock

Product ID:

338