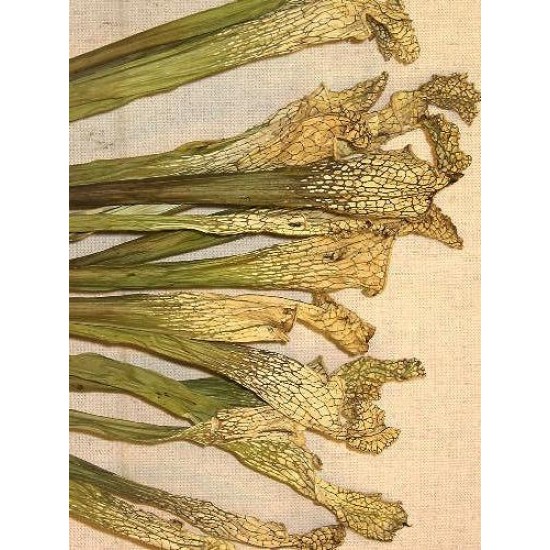 -44 % Out of Stock
Dried Sarracenia (Pitcher Plant)
Dried Sarracenia (Pitcher Plant)
Amazing plant of mother natures creation. They look like you can fill them up with water and pour it out. They are beautiful and would be so amazing in a floral arrangement. No need to feed this plant!  Don't let the fact that Sarracenia is carnivorous deflect you from purchasing this fun, beautiful and interesting flower!  Sarracenia is also known as a pitcher plant. The funnel shaped hollow blossom and stem are very thin and delicate looking, however the plant is deceptively hardy! The plant leaves and blossom form a funnel in order to trap insects, which it digests with the plant's natural enzymes. The pitcher plant is also tricky as it lures insects inside with its sweet honey scent and slippery nectar! Our Sarracenia, or Pitcher plant is picked at its prime. It is naturally dried and is insect free. This sarracenia (pitcher plant) retains its beautiful mottled soft green coloring. The sweet, lacy looking hood over the opening of the funnel makes for a unique and beautiful focal point when used alone or in any dried décor arrangement. Unusual "blooms".  Also known as "fly catcher"!  This looks like a delicate plant, but is very hardy. Natural green with white coloring.

Product: Dried Sarracenia (Pitcher Plant)
Type: Dried and Preserved
Amount: about 10 stems per bunch
Case Option: Buy a full case of Dried Sarracenia bunches and save even more!
Stock:

Out of Stock

Product ID:

419