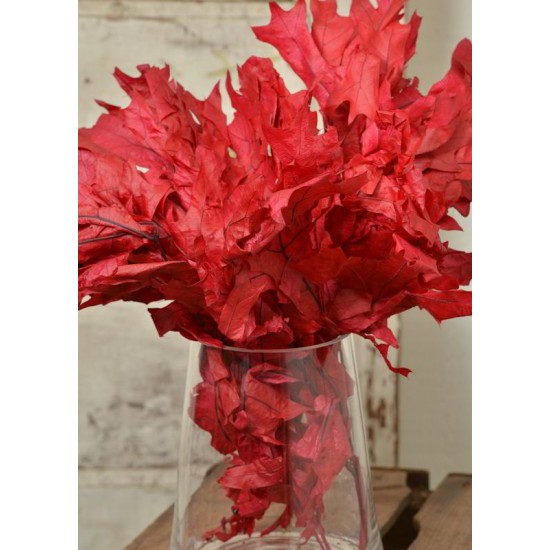 -22 %


Preserved Red Oak Leaves (1 LB dried leaves)
Natural Preserved Red Oak Leaves for Decorations
Brilliant and captivating, these preserved red oak leaves are gorgeous. They add a bright spot in any floral or fall and winter display. The beautiful red color of these natural, preserved oak leaves lends itself to being a spot of cheerful color for any display. The bright red oak leaf makes a stunning addition to fall decorating, and blends nicely into winter and holiday displays. Red preserved oak leaves can be used for splashes of color on wreaths, topiaries, garlands, swags and in floral bouquets. They are stunningly beautiful on their own, and lend themselves well to stand alone displays in a vase, or bowl. The single leaves can be scattered for a brilliant display of beautiful fall and winter color. The preserved oak leaves last for years when kept dry, so your display can bring joy this year and in the future! A wreath of red preserved oak leaves, sprigs of brilliant green holly, and tiny silver bells makes a beautiful winter wreath, which shows off some of mother natures most brilliant displays of color. The winter doldrums can be beautifully forgotten as the bright and cheery red oak leaves greet the onlooker with their natural beauty. Scatter the oak leaves on a table, or fill a bowl with the leaves of the oak for a splash of color on a table, bookcase or counter. A Christmas tree decorated with natural preserved oak leaves is breathtaking. Enjoy the beautiful of red, natural preserved oak leaves for fall and winter decorating needs. The oak leaves with add brilliance to any display, and can be used as is in a vase, or the leaves can be removed, and used singly or tied together in twos or threes with a bit of raffia or ribbon. A brilliant tree garland can be made by tacking the preserved oak leaves end to end and gently placing them on a mantle or around a tree.
 
Pictured: A Preserved red oak leave bunch
Size: Leaves are between 2-5 inches long
Type: Dyed, Natural Oak leaves
Length: Average branch 2 feet long
Color: Red

Many colors available:
Summer Green
Mango (Orange)
Harvest Tones
Autumn Gold
Yellow
Red
White

Note: Any returned oak leaves will incur a 25% restocking fee.
Purchase by the pound, or save even more with a case!
Stock:

In Stock

Product ID:

331