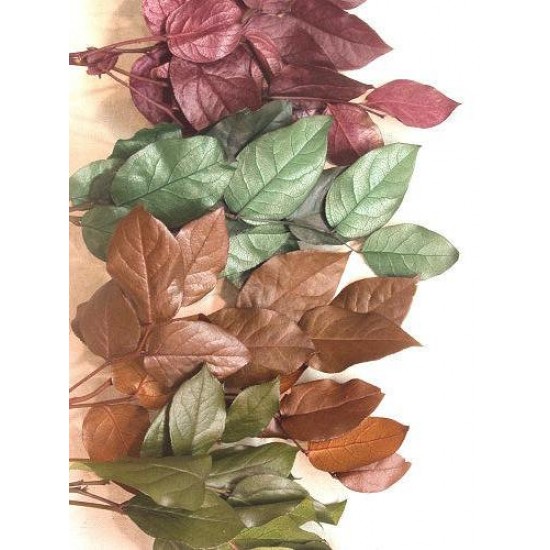 -20 % Out of Stock
Lemon Leaf Plant Leaves Bulk Case (Dried Salal)
Preserved Lemon Leaf (Salal)
Bunches of dried lemon leaf make a wonderful filler and background foliage for wreaths, dried flower arrangements, table centerpieces, mantel decorations, or bouquets. These all-natural dried lemon leaf (salal) leaves have been preserved carefully so they will look beautiful for a long time. The smooth, almost glossy leaves of lemon leaf  plants make them a perfect addition to many projects and themes.
Salal, also known as Lemon leaves, are round, smooth olive colored leaves that grow on Salal trees in the Pacific Northwest. Although they are not lemon trees, leaves from salal trees are often called lemon leaves because their shape, size and texture are similar to each other.
Salal leaves are cut from their branches in bunches, then hung upside-down to dry. They can then be used in their natural state, or can be dyed so they will keep their color longer in sunlight. Like all dried plants, natural lemon leaf (salal) leaves can fade if repeatedly left in direct sunlight. Dying the leaves helps to prevent this.
Preserved salal is available in many different colors to suit your needs. Choose from Natural, Basil, Yellow, Orange, Burgandy, and Hunter Green using the drop down option menu below. Each bunch of dried salal plant leaves includes thirteen to fifteen branches.

Product: Preserved Lemon Leaf (Salal)
Colors: Main Image Top to Bottom (Burgundy, Hunter Green, Yellow, Basil Green)
Leaves Length: 2-3 1/2 inches long
Leaves Width: 3/4-1 1/2 inches wide
Bunch Size: 6 oz bunch, 10-12 Branches per bunch
Case Option: Buy a full case of 8 lbs of Lemon Leaf Salal and Save Even More!

Other Names: Preserved Lemon Leaf, Preserved Salal, Dried Lemon Leaf, Dried Salal

Stock:

Out of Stock

Product ID:

431