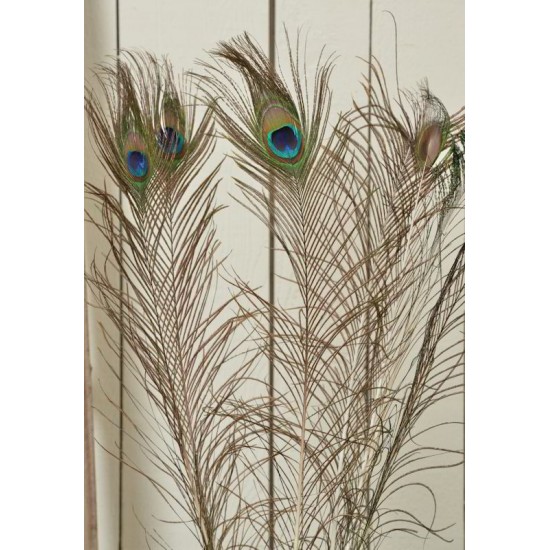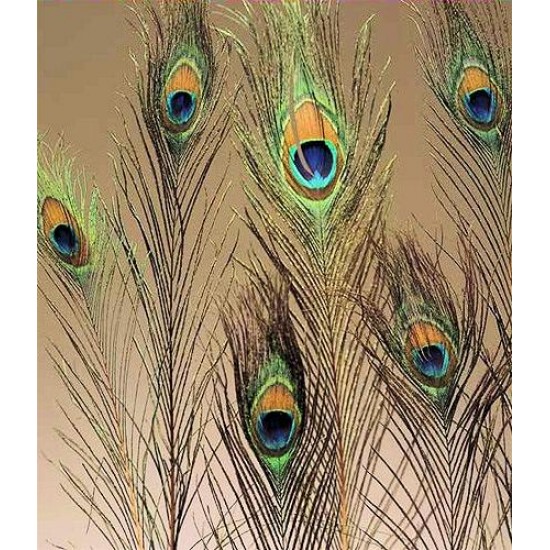 -45 %


Peacock Eye Feathers for sale
Natural Peacock Eye Feathers
Peacock feathers are so beautiful. They have eyes that stare back at you and capture your attention. These male peacock feathers for sale measure 25-35 inch in length. This size give you so many possibilities to us them full length or even trim the feathers to the size you would like with just a normal scissors. The distinctive and much prized tail feather of the Peacock makes a beautiful addition to many home decorating situations. The peacock is a very colorful pheasant, who displays his tail feathers when courting the plain mottled brown peahen. This beautiful display of tail feathers brings awe to all who see it. Now you can bring the awesome display of peacock tail feathers into your own home for your own lovely display of nature. Peacock feathers are long (30-35 inches), and look wonderful standing alone in a tall vase. Their distinct and dramatic coloring is inspiring to all who see it.  The iridescent hues of the peacock feathers  change and shimmer with every viewing angle, making them have a new look depending on the position of the viewer. Buy peacock feathers and try standing them in a tall vase. Add our peacock feathers for sale to dried flower arrangements, press them behind glass in a beautiful picture frame. There are so many more options!

Product: Peacock Eye Feathers
Amount: 10 peacock feathers per bunch
Type: Natural feathers
Short Length: about 12 inches (includes the stem)
Long Length: 25-32 inches (includes the stem)
Long lasting: Looks beautiful for years
Case Option: Buy a full case of 24 peacock feather Bunches and Save Even More!
Other Case Option: Buy a full case of 100 peacock feathers and Save Even More!
Stock:

In Stock

Product ID:

380