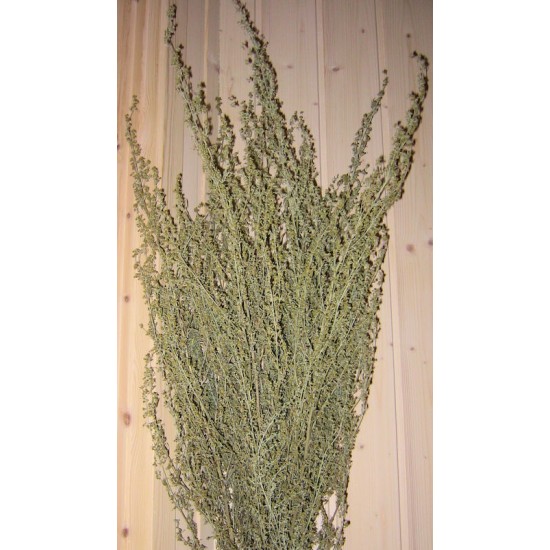 -22 % Out of Stock
Dried Artemesia (Artemisia, Silver King, Wormwood)
Dried Artemesia bunch
Artemesia is a member of the Wormwood family, and is a native of England.  Known as Wormwood, Mugwort, Great Basin Sagebrush or Tarragon, Artemesia is known for its bitterness in flavor.  However, as a dried plant, Artemesia has many uses in home or office decor. Also know as Silver King, it is a plant with graceful stems of whitish leaves...it is a staple for wreath makers, but is lovely in fresh bouquets as well. Artemesia grows on branched, firm leafy stems. The leaves are generally whitish green.  The leaves grow fully up the stem. This makes Artemesia a must have for any dried decor bouquet, sway, garland, or natural decoration.  Artemesia makes a wonderful backdrop for Dried Yarrow, Oregano and Pearly Everlasting.  The subtle light color of its leaves will not overpower, but instead enhance the color of the additional dried flowers and plants that share the bouquet. 
 
Product: Artemesia flower bunch
Color: light green
Amount: Large 5-6 oz bundle
Length: 12-18 inches Artemesia Flower Stem Length
Case Option: Buy a full case of 15 Artemesia wormwood bunches and Save Even More!

Other info: Long lasting (Looks beautiful for years)
All natural farm grown Artemesia
Cleaned and naturally dried
Easy centerpieces, Wreaths, Crafts
Simply elegant
Not for Human Consumption
Also called: silver king, wormwood, worm wood, preserved flowers, preserved flower, dried flowers
Stock:

Out of Stock

Product ID:

402