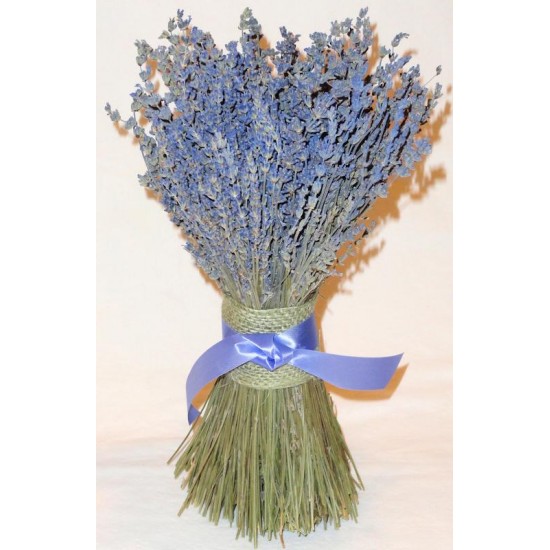 -20 %
Lavender Flower Stack
Lavender Stack
This beautiful lavender bundle will be a hit wherever you put it. Try it on a table, shelf, fireplace, piano, hallway, centerpieces, etc.  You will love this lavender stack and the natural beauty it brings to your decorative space.  You and your friends will surely enjoy the detail and work that went into creating this natural work of art. You could even replace the tie and wrap with whatever ribbon or accessory you choose to customize this product to your home or event theme. It is sure to be a hit when you give a lavender stack as a gift for Valentines Day, Mothers Day, birthday, or special event. The natural lavender aroma is sure to bring a soothing ambiance to any room. Lavender is an appealing flower that is known for its beautiful coloring and its soothing scent. Lavender flowers grow in whorls, spiking above the plant's foliage on long stems.  Although the color of lavender may be called 'blue', 'violet' or 'lilac', the particular hue is often called lavender! Lavender is cultivated through much of the world, not only for its beauty and bouquet, but also because of its keeping qualities. We at Curious Country Creations are delighted to offer lavender, picked at the peak of its bloom, and then naturally dried to retain both its pheromone and its aesthetic charm.

Product: Large Lavender Stack
Size: 11-12 inches
Top Width: 6-7 inches
Bottom Width: 2-3 inches
Lavender Amount: About 8 oz of Lavender
Ingredients: Lavender

Note: Lavender products always shed some buds in the shipping process. This is unavoidable so we adjust for this by adding more lavender stems. When your stack arrives, keep the buds to use as potpourri.
Stock:

In Stock

Product ID:

458